WAAM-it Spider
Weave & Spin Your Own Web
Member of a WhatsApp Group? Ever wanted to get all the numbers from all the WhatsApp Groups that you belong to? – WAAM-it Spider will do that for you with precision in a matter of a few seconds.
Single Group Feature
Point to a WhatsApp Group of which you are Member. Click on "Save Number" and it is done. Create your Excel Spread sheet with the list of all numbers in this Group.
Multiple Group Feature
Click on "Export All" and you will get all the numbers of the Members of all your groups at once; either in one long file without any duplication or in separate files – one for each group.
In addition, You also get a report file of all the Groups from which WAAM-it Spider obtained the numbers – how many numbers from each group, how many numbers in total and how many duplicate numbers were removed.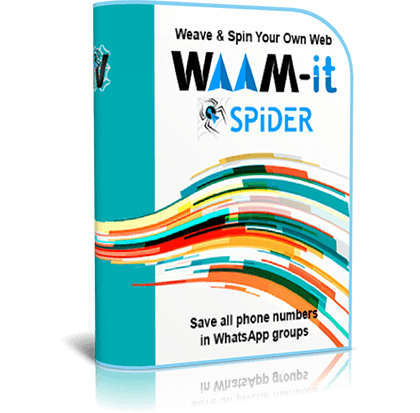 Scrap phone numbers from WhatsApp groups
Get WAAM-it Spider Pro
Purchasing WAAM-it products is a one-time payment with no subscription fee or any other costs
WAAM-it Spider Pro
Get all numbers from WhatsApp groups
$197
Lifetime payment – no extra fees or charges
Collects all numbers from registered WhatsApp groups
WhatsApp Web embedded
Exports all numbers in a CSV or TXT format
Collects all your WhatsApp groups members in one click
Saves multiple groups either in a single or multiple lists
Generate detailed scrap report
Compatible with Windows XP, 7, 8, 10
Works with WhatsApp and WhatsApp business
FREE instruction video
FREE support & software updates
IMPORTANT
: All purchases originating in Israel must be paid in ILS and are subject to VAT at the current rate. Please
Click HERE
WhatsApp Us
Send us Email