WAAM-it Spider
Locate & Auto-join WhatsApp Groups
Collect WhatsApp numbers databases within a few minutes! WAAM-it Spider enables you to collect WhatsApp groups invitation links using relevant keywords online. Join the groups by a single click of a button and even post an automatic message as you join the groups.
Export WhatsApp Group Numbers
Export all numbers of the members within all WhatsApp groups at once, either in one long file without any duplication or in separate files – one for each group.
Export Summary Report
Log-in with as many WhatsApp accounts as you wish and receive a detailed report: Group names, how many numbers from each group, how many numbers in total and how many duplicate numbers were removed.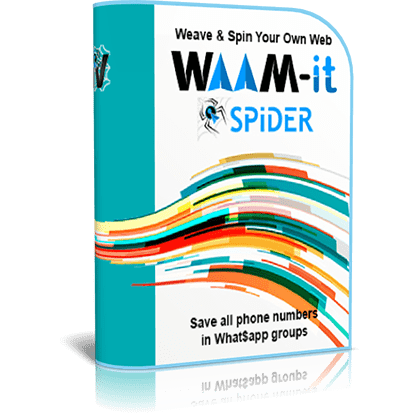 Obtain phone numbers from WhatsApp groups
Select Spider Basic or Pro
Purchasing WAAM-it products is a one-time payment with no subscription fees or any other costs
WAAM-it Spider Basic
Export all numbers from WhatsApp groups
$297
Lifetime payment – no extra fees or charges
Locate and collect WhatsApp group links from websites
Auto-join WhatsApp groups
Auto Advertise in WhatsApp groups as you join
Collects all members' numbers from WhatsApp groups in one click
WhatsApp Web embedded
Exports all numbers in a CSV or TXT format
Saves multiple groups either in a single or multiple lists
Generate detailed export report
Compatible with Windows XP, 7, 8, 10
Works with WhatsApp Messenger & WhatsApp Business
FREE instructional video course
FREE support & software updates
WAAM-it Spider Pro
Locate WhatsApp group, Auto-join & Export all numbers
$437
Lifetime payment – no extra fees or charges
Locate and collect WhatsApp group links from websites
Auto-join WhatsApp groups
Auto Advertise in WhatsApp groups as you join
Collects all members' numbers from WhatsApp groups in one click
WhatsApp Web embedded
Exports all numbers in a CSV or TXT format
Saves multiple groups either in a single or multiple lists
Generate detailed export report
Compatible with Windows XP, 7, 8, 10
Works with WhatsApp Messenger & WhatsApp Business
FREE instructional video course
FREE support & software updates
IMPORTANT
: All purchases originating in Israel must be paid in ILS and are subject to VAT at the current rate. Please
Click HERE
WhatsApp Us
Send us Email