WAAM-it Spider
Locate & Auto-join What$app Groups
Collect What$app numbers databases within a few minutes! WAAM-it Spider enables you to collect What$app groups invitation links using relevant keywords online. Join the groups by a single click of a button and even post an automatic message as you join the groups.
Export What$app Group Numbers
Export all numbers of the members within all What$app groups at once, either in one long file without any duplication or in separate files – one for each group.
Export Summary Report
Log-in with as many What$app accounts as you wish and receive a detailed report: Group names, how many numbers from each group, how many numbers in total and how many duplicate numbers were removed.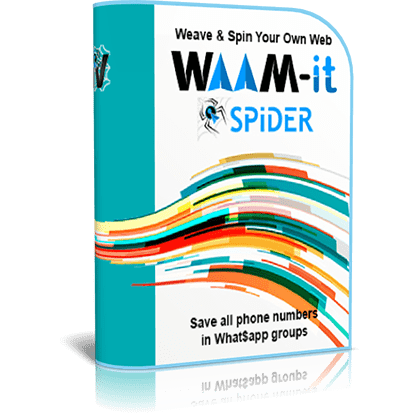 Obtain phone numbers from What$app groups
Select Spider Basic or Pro
Purchasing WAAM-it products is a one-time payment with no subscription fees or any other costs
WAAM-it Spider Basic
Export all numbers from What$app groups
$297
Lifetime payment – no extra fees or charges
Locate and collect What$app group links from websites
Auto-join What$app groups
Auto Advertise in What$app groups as you join
Collects all members' numbers from What$app groups in one click
What$app Web embedded
Exports all numbers in a CSV or TXT format
Saves multiple groups either in a single or multiple lists
Generate detailed export report
Compatible with Windows XP, 7, 8, 10
Works with What$app Messenger & What$app Business
FREE instructional video course
FREE support & software updates
WAAM-it Spider Pro
Locate What$app group, Auto-join & Export all numbers
$437
Lifetime payment – no extra fees or charges
Locate and collect What$app group links from websites
Auto-join What$app groups
Auto Advertise in What$app groups as you join
Collects all members' numbers from What$app groups in one click
What$app Web embedded
Exports all numbers in a CSV or TXT format
Saves multiple groups either in a single or multiple lists
Generate detailed export report
Compatible with Windows XP, 7, 8, 10
Works with What$app Messenger & What$app Business
FREE instructional video course
FREE support & software updates
IMPORTANT
: All purchases originating in Israel must be paid in ILS and are subject to VAT at the current rate. Please
Click HERE
What$app Us
Send us Email