WAAM-it V-fon
 Multi-purpose
WAAM-it V-fon is a multi-purpose virtual phones system for PC. The virtual phones are created with a click of a button and include unique identifiers.
Virtual phones replace the need for physical mobile phones and allow you advanced & powerful uses when it comes to WhatsApp marketing.
 Versatile Uses
  Advanced Chat Bot for automatic reply including files on demand
  Contacts import from a spreadsheet & WhatsApp number validation
  Read/ Sent/ Received/ groups report generator
  WhatsApp panel to supervise your employees
  Compatible to work with WAAM- Sender and Spider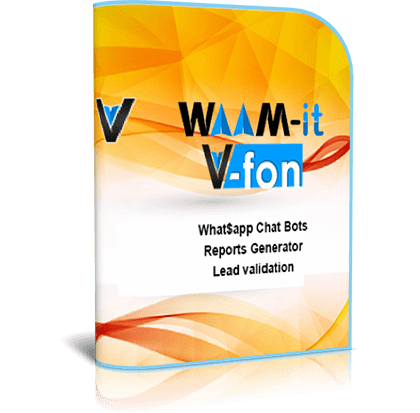 Get WAAM-it V-fon
Purchasing WAAM-it products is a one-time payment with no subscription fee or any other costs
WAAM-it V-fon
Multi-purpose virtual phones system
687$
Lifetime payment – no extra fees or charges
Builds unlimited virtual phones on your PC with one click
Embedded WhatsApp Messenger & WhatsApp business
Chat bot for a quick & smart auto reply and including files on demand
Imports contacts from spreadsheet to phone with one click
Generates sent/ received/ read messages reports
Works seamlessly with WAAM-it Sender and Spider
Compatible with Windows XP, 7, 8, 10
Single license for one PC
FREE instructional video course
FREE support & software updates
IMPORTANT
: All purchases originating in Israel must be paid in ILS and are subject to VAT at the current rate. Please
Click HERE
V-fon short term rental
If you wish to try out WAAM-it V-fon or use it for a short term project you can rent our software for 3 or 7 full days starting from the moment you have installed and activated the sender including a full instructional video tutorial course and technical support.
If you decide to purchase the lifetime license until your short term rental is over, we will deduct the rental cost from your lifetime license purchase.
3 Days Rental: 50$
7 Days Rental: 70$
System Requirements
1. Android Emulator – Free download link comes with the software
2. Graphic card Supports OpenGL 2.0 and above with at least 1.5GB memory
3. Each virtual phone created needs about 500MB hard drive space
4. Each active virtual phone needs a minimum of 1GB RAM and one CPU core
5. Pre-paid SIM cards or virtual numbers to activate WhatsApp on each virtual phone
6. USB network camera to scan WhatsApp for PC or WhatsApp Web QR code
WhatsApp Us
Send us Email